Tax and Commercial Criminal Law
Not least the current spectacular criminal law cases highlight the fact that business life is being increasingly defined also by criminal law. In practice, there is also an increasing tendency to use criminal law as an effective weapon against competitors or unwelcome business partners.
Against this backdrop, experienced defence counsels are required who specifically support you with foresighted advice to avoid possible criminal liabilities from the outset (compliance) and who, in the case of criminal matters that are already pending, guarantee the best possible support for private individuals and legal entities. Our daily experience shows that the earlier we get involved, the greater your chances of withstanding criminal law proceedings without any damage.
We would also be pleased to take on the role of the "state prosecutor" for you and support you in the clarification and/or disclosure of possible criminal liabilities.
Compliance with regard to criminal law
After a thorough examination of the processes in your company, industry-specific guidelines, tailor-made training and control measures are developed that guarantee a corporate process that largely avoids repercussions under criminal law. We assume the clarification and sensitisation for you in the following areas:
Employee Protection;
Corruption;
Levies and Taxes;
Capital Market Law;
Classical commercial offences such as misappropriation, embezzlement, bankruptcy offence, fraud and money laundering
Due diligence with regard to criminal law
We accompany DDs and thus help to highlight and minimise the criminal law risks that a company acquisition may harbour. We examine business transactions for their potential relevance under criminal law and thus provide you with fundamental assistance in your decision-making.
Advising of decision makers in the private and public sector with regard to criminal law
Management Board members, managing directors, Supervisory Board members and holders of public office are constantly confronted with issues relevant under criminal law. These need to be countered with specific accompaniment with regard to criminal law. We draw up tailor-made guidelines for your activity and are of course available for individual consultations at any time. Our range of consulting services extends among others to the following areas:
Avoidance and/or combating of corruption;
Avoidance of misappropriation/embezzlement;
Avoidance of misuse of office;
Penal law advisory and defense;
Legal advisory in events of initiation of tax or other proceedings;
Accompaniment in house searches;
Defence in criminal financial matters.
Enforcement of claims with regard to trademark, unfair competition and intellectual property law
Defence in criminal matters and criminal administrative matters
Key areas of our activity are:
(Financial) Criminal Law;
Fraud/Embezzlement;
Corruption
Money Laundering;
Employee Protection;
Employment of Foreigners;
Building Coordination;
Traffic Law;
Environmental Law.
Team
Mgr. Ing. Jan Lerch >
JUDr. Pavel Trnka, LL.M. >
Downloads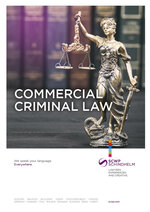 Folder Commercial Criminal Law
Criminal Law / Commercial Delinquency
Tax and Commercial Criminal Law